I promise today is my last day posting about Bacon Day 2008, even though it's worth talking about for another week. We were fortunate at the last minute to get a "swag sponsor" by way of BaconFreak.com. Not only did he provide us with some tasty bacon, but Rocco brought us a whole box of goodies to give away to our guest, including one mega-grab-box doorprize. There were "bacon is meat candy" t-shirts, stickers, bacon air freshener, gummy bacon, Bacon Salt, and the ever popular bacon bandages. There was enough stuff that about half our guests won a prize!
The big door prize winner was our good friend (and the guy who came up with the name Royal Bacon Society) Mike. Which we thought was great, considering all he's done for the site.
Most of the guests handled the disappointment of not winning pretty well, but that Brutus is a sore loseWeight Exerciser. When Mike wasn't looking, he tried to steal the whole shabang! Luckily, Mike prevailed and all of his swag remained intact. Can't say the same for the box.

At the end of the day, everyone went home with a belly full of grease and at very least a handy magnet for their refrigerator. We still have some magnets so if you want one, send us an email with your address and we'll send it your way.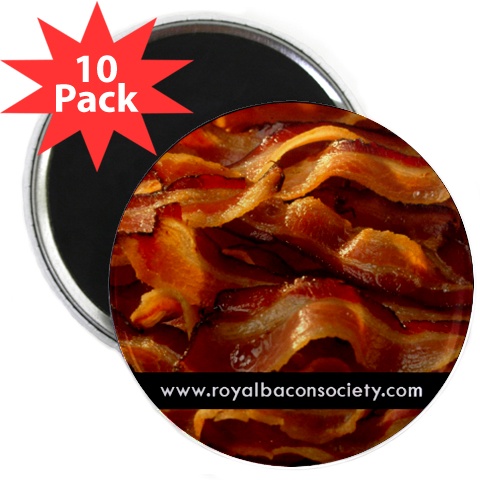 And with that I leave Bacon Day to rest as a fond memory of good friends and good times. If you'd like to see all the photos from the day, you can check out the full gallery here. May it keep you warm until Bacon Day rolls around again!