So I know the Bacon Explosion is probably getting old for some of you, but I never made it because I don't like sausage. I'm a little slow on the up-take, but eventually an idea came to me: substitute hamburger for the sausage! Add cheese! Bacon Cheeseburger Explosion! So that's what I did last weekend.
This was my first-ever bacon mat, and creating it was strangely satisfying. I used a whole 12 ounce package of Niman Ranch uncured, applewood smoked bacon.
Next came a pound of 85% lean hamburger. I wish I hadn't flattened it directly onto the bacon mat, as it stuck to the bacon and made it difficult to roll up. Next time I'll measure out a piece of foil or waxed paper for the burger layer. I topped the meat with pepper and a little paprika, figuring that the bacon would provide enough salt. After that came 3 slices of deli cut American cheese (because I'm old school like that) and just a little pickled jalapeno for a kick. (It could have used at least twice this much.)
Then I rolled it up with much difficulty, and patched any holes. I should have just put the cheese on one end and not tried to roll it into the whole thing. Would have been much easier.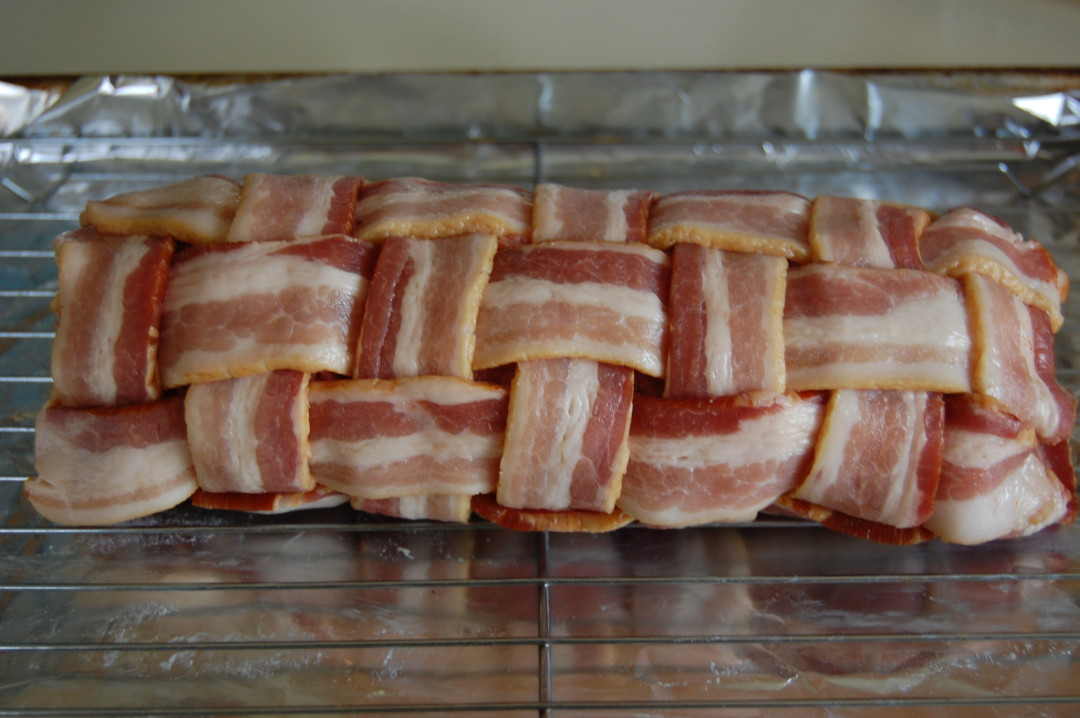 Finally, I wrapped it in its cozy mat, and popped it in the oven at 350 degrees for one hour. The internal temperature when done was about 165 degrees.  I let it sit for 10 minute before slicing.
As you can see, a lot of the cheese melted out and made a cheesy crust on the outside. I'm sure the cheese added some flavor to the meat, but I would really have preferred it if more of it had remained on the inside. Maybe a heartier cheese, like mozzarella, would have worked better. Should have just thrown in a string cheese.
All in all, I'd say it was a success. The end pieces went to the dog because, believe it or not, there was just too much bacon. Also, next time I make it, I'll use a bit more hamburger so the roll has a larger diameter and the bacon mat just barely fits around. Any overlapping bacon stayed a bit soggy, which is not my thing. But for the most part it had a good burger to bacon ratio, and the jalapenos added a lot to the flavor. Not bad for a first try.