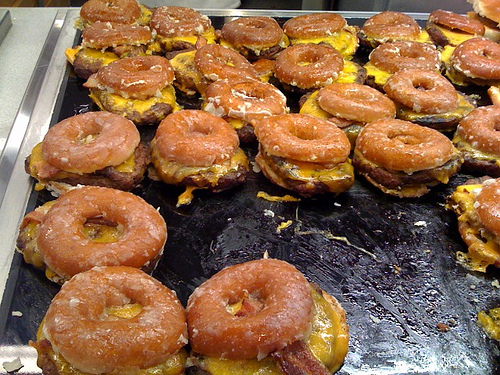 What gives with the cheeseburgers lately? Everywhere I turn, bacon cheeseburgers are in my face, tempting me to be bad. Very bad.
The latest rage seems to be the Krispy Kreme Bacon Cheeseburger, the basics on a glazed donut instead of a bun. It's more straightforward than the Paula Deen version (no egg involved) but has the added pizazz of America's favorite donut company. Apparently it's named the "Luther Burger" after R&B singer Luther Vandross, and there's much buzz about Mr. Vandross being the possible inventor. No hard evidence, of course, but I'm sure he's very proud.
This new classic has been seen in St. Louis at a minor league baseball concession stand, at the New York State Fair, and at Google NYC's cafeteria. It begs the question…when will this monstrosity reach the West coast? And where can I get in line?