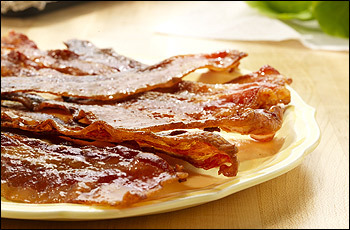 There's been a lot of talk about candied bacon, maple bacon, chocolate covered bacon, basically the ongoing quest for bacon made sweet. Further, people have mixed bacon into their favorite sweet treats, like pies, ice cream, chocolate and, of course, cinnamon rolls. I could link to at least one of each of those creations, but you've already seen them all.
That said, I was pretty impressed with the Boston Globe's list of recipes for lacquering your savory bacon with sugary goodness. The first is a simple brown sugar and orange juice glaze that sounds just amazing and I fully intend to try. But then the list goes on to add chile, cinnamon, black pepper, honey mustard, mango chutney…you name it, you can add it to your bacon!
So go crazy. Experiment. Find out what works best for you and those you love and report back. We're always looking for new ways to make our bacon even less healthy!